K+N STANDBY.OFFICE 2.0
Redefine your work space
It's time to get ready for more flexibility at work. K+N STANDBY.OFFICE helps you take an imaginative and integrated approach to shaping the transformation in your workplace. We offer you a solution that allows you to create workstations in places where they were never actually supposed to be: in the open space and even in higher-traffic areas – exactly where they are needed at the time.
Agile working methods call for agile furniture as well as employees.
Our future-oriented solution makes autonomous working possible right now. K+N STANDY.OFFICE is a mobile fold-away workstation that's fully equipped and has acoustic screening. The table adapts easily to suit people of very small or large stature, and it operates completely independently thanks to the integrated rechargeable battery.
Redefine your work space
Multi-purpose and agile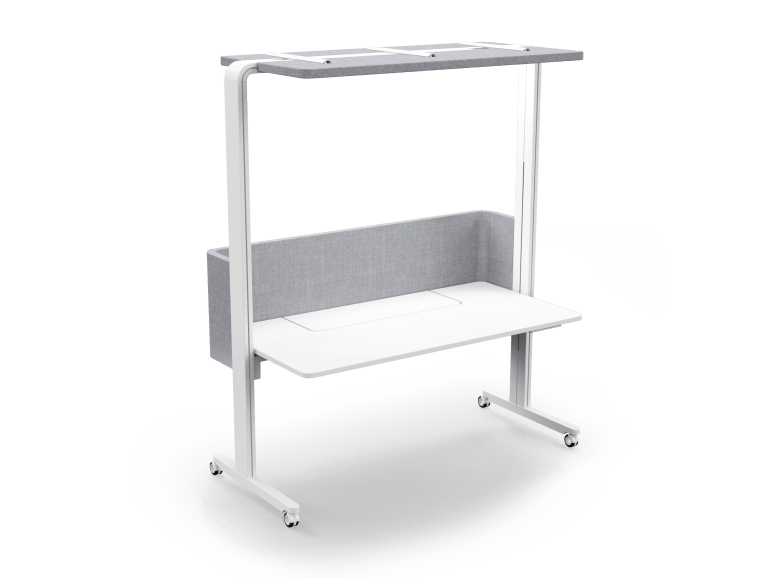 b5d2831d-7acd-42c0-b40f-9df19933bd92-0
b5d2831d-7acd-42c0-b40f-9df19933bd92-1
b5d2831d-7acd-42c0-b40f-9df19933bd92-2
b5d2831d-7acd-42c0-b40f-9df19933bd92-3
CANOPY
Its acoustic properties reduce noise considerably
Rear screen with acoustic properties
travels up or down with the mobile desk top – and can also be adjusted independently via a convenient Bowden cable.
Frame with integrated Artemide light
The light switches on automatically when the presence sensor is triggered. The light is not retrofittable. Frame available in white or black textured paint.
Desk top with folding mechanism
Desk top can be adjusted without power or tools: infinitely variable from 600 mm to 1,400 mm; folding mechanism ensures easy transport and storage.
mm
Height adjustment of the desk top
Jetzt konfigurieren!
Stellen Sie sich Ihr Produkt nach Ihren persönlichen Wünschen zusammen und laden Sie Ihre Konfiguration als pdf herunter oder fragen sie das Produkt über einen Klick auf direkt bei uns an. Wenn Sie mit unseren Produktdaten Arbeitswelten planen möchten, können Sie sich Ihre Konfiguration über im fxb, dwg oder cad Format herunterladen.